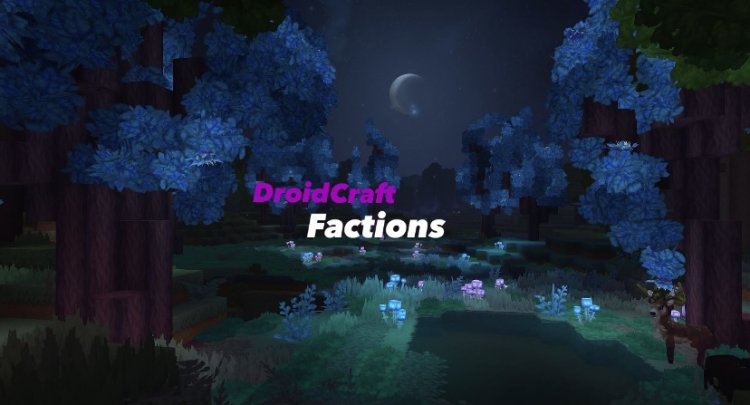 ---
 Droidcraft Factions is one of the oldest realms on Minecraft Bedrock Edition, dating back to the Xbox 360. , there is a big reason, it doesn't matter if you play for an hour or a full day, you can buy kits & spawners from this faction, the number of bases that you can raid and attack, and enough PVP(player vs player) to make this the best and most popular factions server out there on Minecraft, the money system is also quite unique and simple unlike any other faction on Minecraft. What else is there to want with so many features and such a dedicated player base? It's a little out of date, with village shops. These go all the way back to the Xbox 360 with custom villagers
What are Faction Realms?
Factions is a competitive game mode inside of Minecraft where you compete to have the best base and generate the most resources. These game modes usually are played by highly skilled players in PVP (player vs player combat) The main objective is to create efficient farms to harvest resources to sell in the shop. This realm has a quite robust shop offering essentially every item in the game to e sold for in-game money
It's like a part of the game where you work hard in order to become the best faction out there on the whole server (basically like a clan), most of the time by raiding other factions. when you claim a part of a land for the faction, others are forbidden to do anything illegal like breaking or claiming the land.
Getting Started
People who are new to Factions may want to start by joining an existing Faction on the server rather than starting their own from scratch. They will be able to provide you with assistance in your circumstance. Another difficulty is that creating a new faction is extremely difficult, as you are unfamiliar with the game and how a faction operates; however, maintaining and improving a new faction is extremely difficult, as you are frequently attacked by other factions and completely destroyed in a single day. That is why it is critical to join a more experienced side in order to gain valuable experience. Being educated on game politics as well as war tactics will eventually benefit you greatly when it comes to creating your own faction in a number of different ways.
"What you've worked so hard to create may be destroyed in an instant...
CLAIM YOUR LAND

Land may be claimed by factions, and others will be unable to break it in the conventional sense. People may, however, continue to cannon into claimed territory in order to take items. In order to claim land, a chest needs to be placed by you. you will receive a 9*9 land around your chest, which acts as its center. gold blocks can be seen on the four sides of your land claim, which serves as its border. You get only one chest for your land claim but you can get further more land claims later on in the game as well.
Spawn
Shop
PVP Texture Pack
Crates
Wild